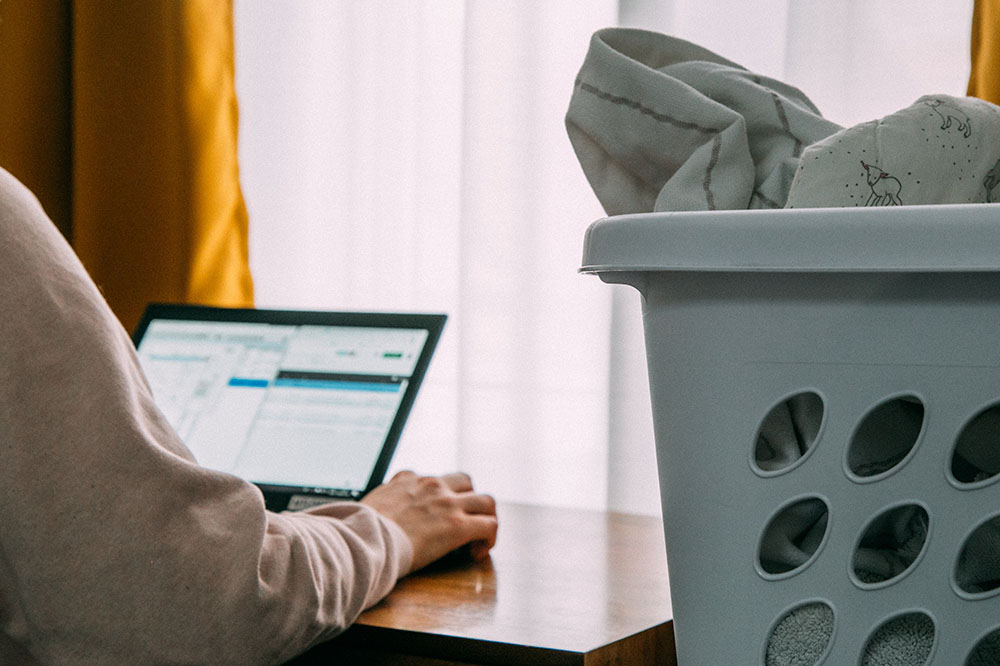 Unlike many who have been thrust into the work from home (WFH) environment, very suddenly and without much warning, NATCO has several employees who are part-time, full-time, and periodic telecommuters. We were prepared early to transition our in-office employees to WFH to keep them safe during the pandemic and have moved a large number of our team to off-site offices. We developed a set of tips to help our employees be successful in their new WFH environments, and we want to share those with you. While our tips are definitely not a one-size-fits-all solution, we hope they can be useful in getting you set up for telecommuting.
Photo by Michael Soledad

Designate a work space. Make sure it's clutter-free and used only for work purposes, if possible. Keep children and animals out of this area and make sure it is well lit and quiet. A desk lamp (this one is reasonably priced) can help cast light on your desk where the house lighting might be lacking.
Determine your PC needs. Will you use a laptop? A docking station? Will you need additional monitors to effectively accomplish your tasks? Think about what will make you successful in an adverse situation (because you are in one) and don't be afraid to ask your supervisor to approve your solution or help you come up with one.
Supplies. Make sure you arrange to checkout or take home with permission, the items you normally use at your work office so that you have as close to the same set up in both places. This creates a sense of familiarity. Don't forget the basics like a stapler, sticky notes, highlighters, and other things you take advantage of having at your fingertips at work but don't always assume you'll need every day.
Make sure you are set up to communicate. If you are using your cell phone to do business, make sure your home office is in an area that gets the best coverage. We recommend using a landline where possible since it always provides the most professional and clear-sounding communications. A cellular phone will work in a pinch and for other instances that aren't as important. A good headset is also key. If you need help getting your home office communications in place, please give us a call - we're here to help you make this transition smooth and successful.
Be accessible. Your home office should operate the same as your work office does and your co-workers, vendors, colleagues, etc. should be able to contact you in almost the same fashion as they always have. We have found that Microsoft Teams is a good fit for our office, and we don't hesitate to pick up the phone to make sure that paperwork X made it to person B. Texting can become cumbersome and unprofessional, so save those messages for just the quick notes.

Photo by Content Pixie

Determine how you will measure your productivity. Are you in sales and already have measures in place? Great! But sometimes it's difficult to tell if you are getting anything done or just spinning your wheels. Identify your tasks with your supervisor and check in regularly to demonstrate you are being a productive and good employee.
Plan your day, week, and month. For some, you may need to even look at a bigger picture. Use a planner that works for you, either written or online, and re-identify your long-term goals, short-term goals, and then weekly goals. Break down your weekly goals into tasks and assign them realistic time to each day. Sprinkle in phone calls to break up the monotony, and always be prepared for impromptu Zoom meetings (yes, that means actually getting ready each day) which brings us to tip #8.
Keep your daily routine normal. Wake up at a similar time, shower, have coffee, walk the dog – do all the things you used to do. This will help you to mentally "stay in the game."
Coordinate with your new "coworkers." If your spouse is working from home, then you have a new officemate - aren't they so cute! They can quickly lose their appeal, though, if you find you are both battling for the stapler or "air time" – when both of you have an important call or Zoom meeting at the same time. Take the time each day or at the first of the week to review your schedules and sort out any conflicts you have ahead of time. If your spouse has a sensitive call at 10:30 a.m., maybe plan to take your lunch early that day or use that time to pick up supplies or run errands. But definitely communicate – this will help ensure you and your new officemate can each "go home" happy to your spouses at the end of the day.
Do a good job and then do a better one. At the end of the day, you want to be proud of the work you are doing for your employer. Make sure you are at minimum doing your best, but don't be afraid to go above and beyond on your own. Being innovative, streamlining procedures to fit the new norm, and getting out of the box are always good ways to make great impressions with your team and demonstrate how valuable you are to the organization.
Transitioning from the office to WFH isn't easy, and it takes plenty of discipline. Like many of you, several of us have suddenly found ourselves acting as a grade-school teacher, and adding stay-at-home-kids to the mix has definitely been a challenge for us. Hopefully the adjustment time for this new curveball will be short and we'll all be working peacefully in our new environment. In the meantime, take care and feel free to share with us what works for you! If you're having difficulties getting set up for telecommuting, give us a call - 800.775.6682 or 870.453.8800 - and we'll help find a solution for your phone and Internet needs. After all, we're all in this together, right?
Read More
---
We are here for you. We want to assure you that telecommunications services are considered essential businesses. Our team is putting in long hours as we seek to serve our community with the services you need at this time. Click to view our full COVID-19 update.
---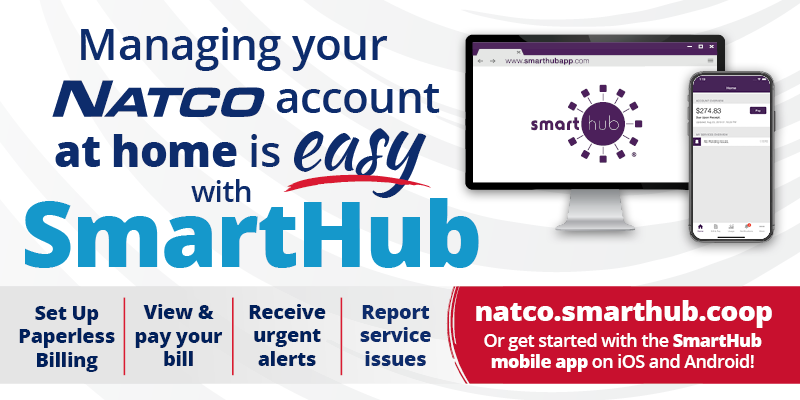 Plenty of things in life are complicated. With our lobby closed to the public, we want to help you manage your NATCO account at home with ease. SmartHub allows you to view and pay your bill online, go green with paperless billing, receive urgent alerts from our office, and report service issues – all from your computer or mobile device! To sign in, head over to natco.smarthub.coop OR download the SmartHub app on your phone or tablet! As always, we're here to help you get started at 800.775.6682.
---
Spring is upon us! This means warm rains, high pollen counts, and the smell of BBQ in the neighborhood.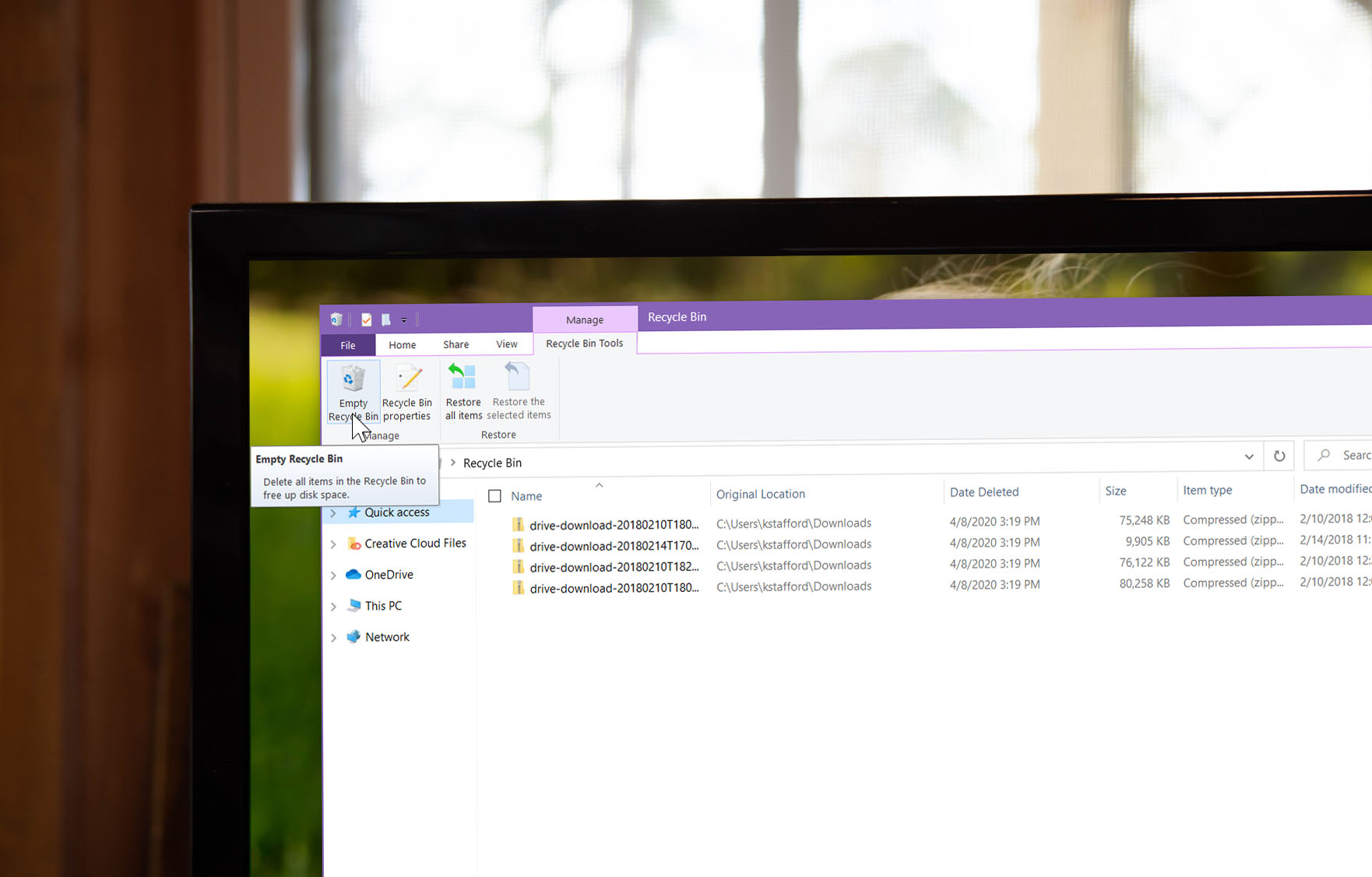 We know spring cleaning has a whole new meaning this year. However, if your hands need a break from the bleach and disinfectant, this is a great time to spring clean your computer, phone, and other devices. A deep clean of your operating system, programs, and files could help your computer run faster and stay secure. We're here with a checklist for cleaning up your tech to help you get started!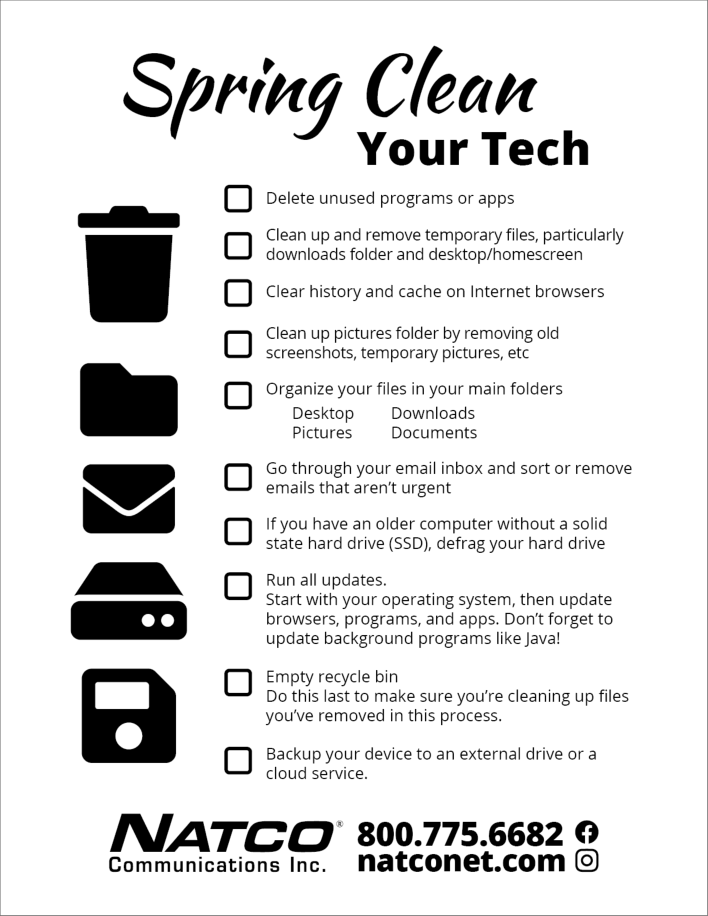 Get the printable version of this checklist here. Don't know how to perform one of these steps? Google will help!
Delete unused programs or apps
Clean up and remove temporary files, particularly downloads folder and desktop/home screen
Clear history and cache on Internet browsers
Clean up pictures folder by removing old screenshots, temporary pictures, etc
Organize your files in your main folders:
Desktop
Downloads
Pictures
Documents
Go through your email inbox and sort or remove emails that aren't urgent
If you have an older computer without a solid state hard drive (SSD), defrag your hard drive
Run all updates.
Start with your operating system, then update browsers, programs, and apps. Don't forget to update background programs like Java!
Empty recycle bin
Do this last to make sure you're cleaning up files you've removed in this process.
Backup your device to an external drive or a cloud service.
Read More
---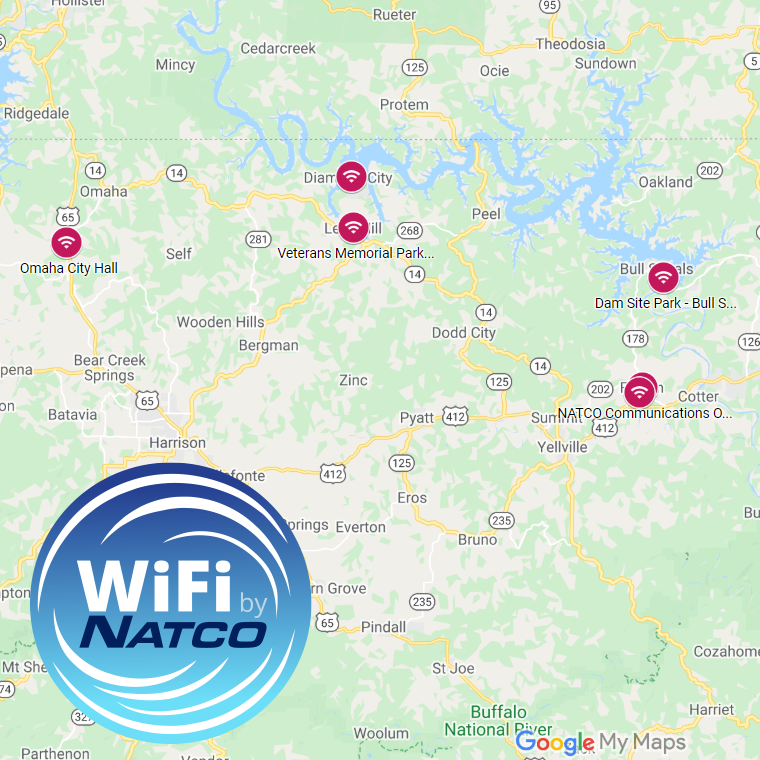 We have worked with community partners across our service area to establish free WiFi access points with high-speed connectivity during this time when so many are trying to work and learn at home. View the announcement on our website.
---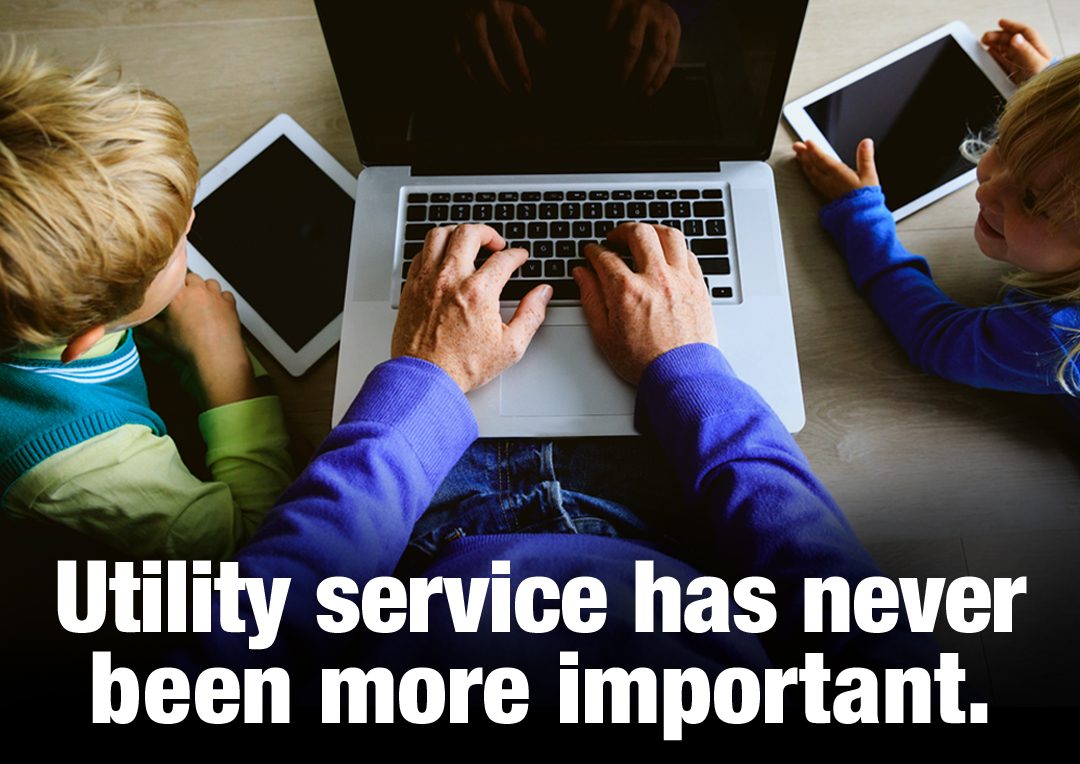 April is annually recognized as National Safe Digging month. As a result of the COVID-19 pandemic, April 2020 will be a very different National Safe Digging Month than ever before.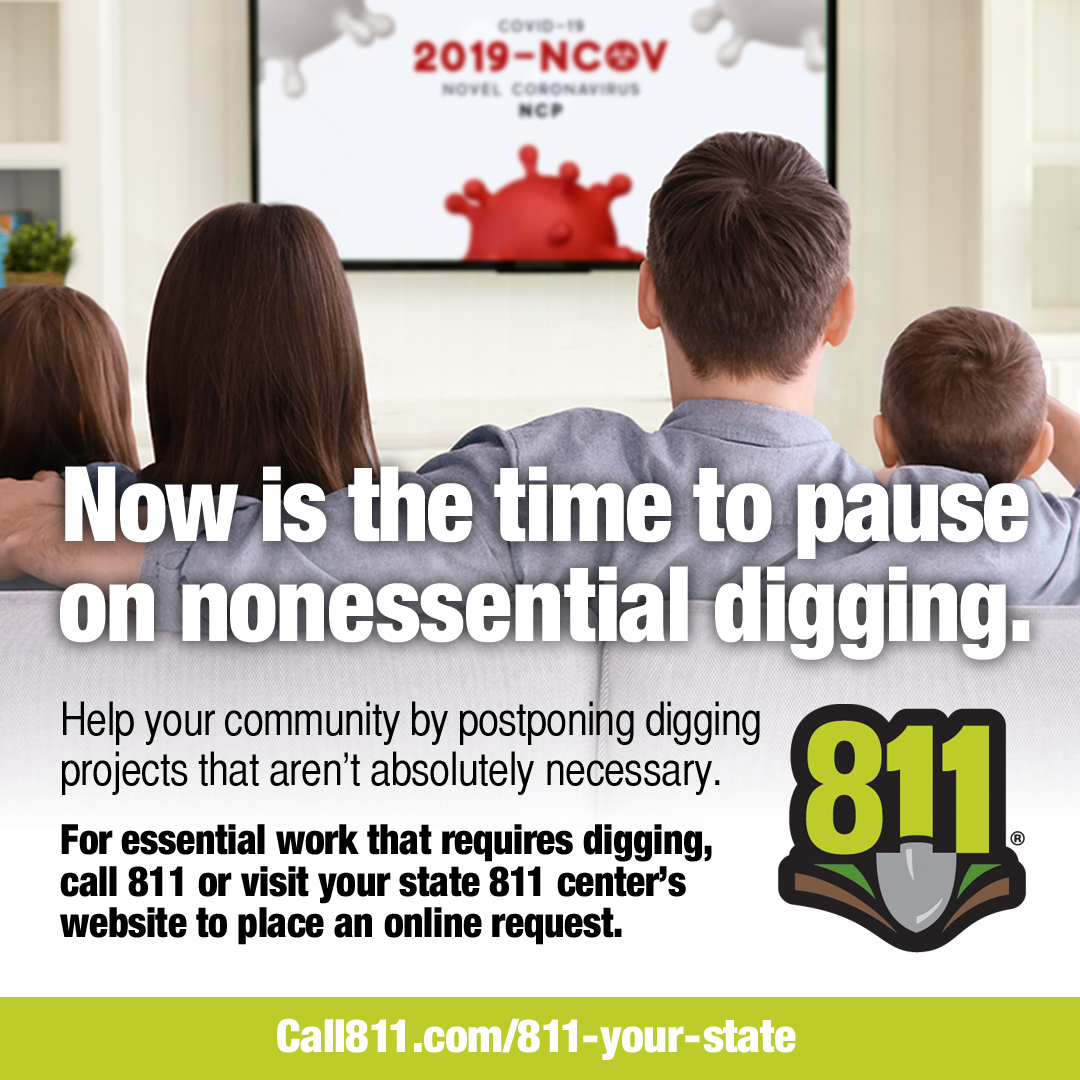 Digging into DIY projects while stuck at home? Before you put a shovel in the ground, please pause on installing mailboxes or fences, or working on other home improvement projects involving digging right now. Arkansas 811 is encouraging Arkansans to stop all nonessential digging for the time being so that as a state, we can focus our resources on maintaining your access to critical utilities during the COVID-19 pandemic.
The internet is keeping us connected during these unprecedented times. By not calling 811 before digging, you might knock out the utility services your neighbors rely on every day. If you do have an essential project, you can use Arkansas's online tools to enter your request to have underground lines marked by visiting arkonecall.com. Please be sure to contact 811 at least 2 DAYS before all digging activity so we can ensure that critical utilities continue to service our communities.
Nearly 40% of homeowners do not call 811 before digging (though that number could increase this year) putting themselves and their communities at risk. Now more than ever, we need to work together to make sure everyone stays connected by postponing all nonessential digging during National Safe Digging Month.
Read More
---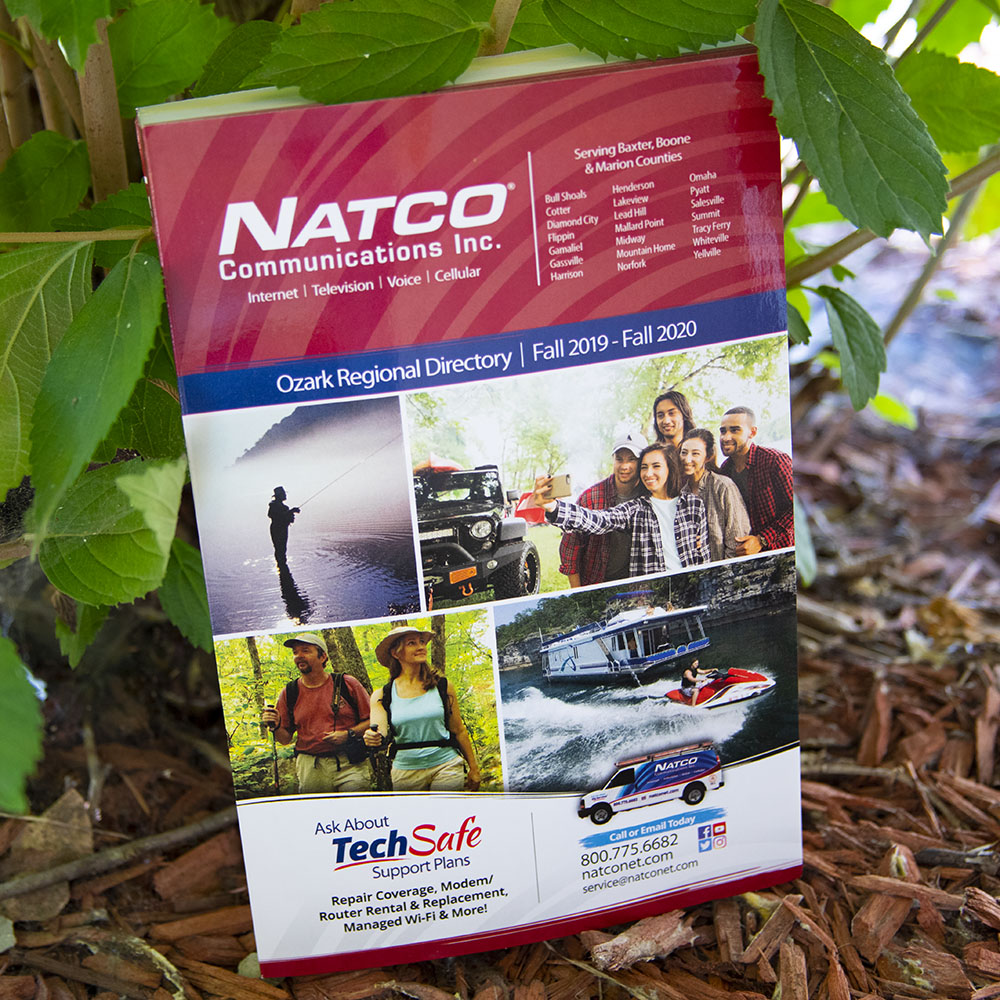 Ready to take your business to the next level?  The sales period for the 2020-2021 Ozark Regional Directory has opened and Angela Ritz, our directory representative, is available to help you place the ad that gives your business optimal exposure while staying within your budget.  The Ozark Regional Directory is the area's most comprehensive directory and includes routes that span a three-county distribution area, including Baxter, Marion, and Boone counties and over 20 area distribution points.  Call today to reserve your space! 870.453.4949 or 877.785.9792
---
NATCO Communications is currently auctioning two vehicles in a closed bid. For photos or more information about the vehicles, or to put in a bid, please contact David Rottmayer, Director of Operations, by phone (870.453.8800) or email (drottmayer@natconet.com).
2005 Chevy Express 2500 Van. Needs engine work.
2007 Chevrolet C-6500 Dump Truck. Good working order, low mileage.