We are excited to announce our Pick of the Patch Costume Contest! Later this month, we will be hosting an online costume contest with three great categories and three awesome grand prizes! Adult costumes have a chance to win a Yeti Flip 18 soft-sided cooler; kids have a chance to win a new Apple iPad, and pet owners will love showing off their adorable animals in their best costumes for a chance to win a Roomba e5 with WiFi! Contests are open to residents of Marion and Boone counties – please check our website for complete details.
Make sure to follow us on Facebook to get in on the fun! We'll be posting chances to win other fun giveaways all month long.
We can't wait to see your costumes! Here are some picks from NATCO's patch as we get ready for a month of treats!
---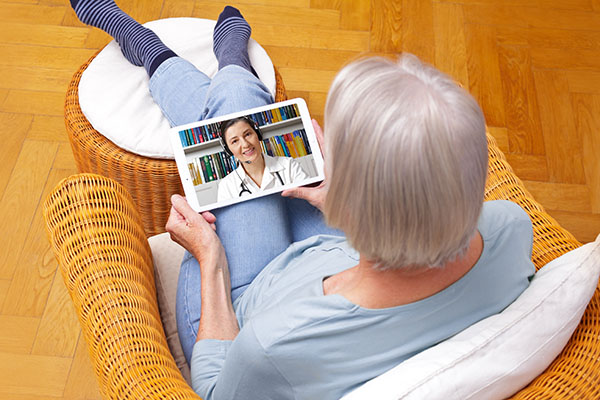 During the past few months, telemedicine has quickly become a popular practice for routine healthcare. Though the COVID-19 pandemic has forced medical professionals and patients to adapt, telemedicine has proven to be a beneficial resource when executed properly.
In our rural neck of the woods, telemedicine can be a huge time-saving benefit for many who live outside of Mountain Home and Harrison where many of our local healthcare providers practice. Those who live farther from the doctor's office can save valuable driving time and fuel by opting to "see" their practitioner through a phone call or video chat. Additionally, with flu season ahead, patients aren't exposing themselves to germs and illnesses in a waiting room.
Locally, telemedicine is taking shape in both primary and specialty care offices as well as urgent care situations. The U.S. Department of Health and Human Services has currently adjusted HIPAA rules to allow healthcare providers to see patients using remote communications technologies. (For more information about the HHS policies on telehealth during the crisis, please visit their website.) Several local doctors' offices are currently scheduling telehealth visits using the Healow app or via phone or video communication services like Zoom, Skype, or FaceTime.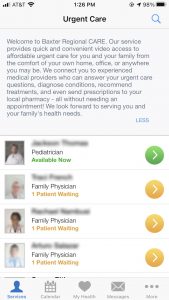 Baxter Regional Medical Center's on-demand urgent care app, the CARE app "offers patients 24-hour video access to a medical professional for urgent care needs" for only $69 per visit (the app does not currently accept insurance plans). The CARE app is a valuable tool for urgent visits that do not require emergency assistance or an ER visit* including late-night fevers, UTIs, seasonal allergies, rashes, and more. The practitioners providing medical care are licensed physicians and nurses and are available 24/7, 365. The app is available for smartphones, tablets, and computers and can be accessed through the iOS and Google play stores and at https://www.baxterregionalcare.com/. Some insurance providers, including Arkansas Blue Cross Blue Shield, are also providing telehealth urgent care services for their members.
*Please note that the Baxter CARE app and any other urgent care app should not be used in place of 911 if there is an emergency that requires immediate emergency medical attention.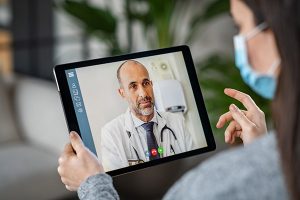 When using telemedicine, preparation can be key to a successful virtual office visit. Here are a few tips we've gathered to make telemedicine work for you:
If your provider's care requires an app, make sure to have it downloaded and that you are signed in before your appointment.

In the case of an urgent care app, like CARE, download and set up the app now so that it's ready when you need it.

Don't be afraid to ask questions when you schedule your appointment! Schedulers understand that the technology can be intimidating and are there to help you.
If you have an upcoming visit, see if you can request a test visit to make sure you understand how to get logged into your appointment.
"Check in" to your appointment early by logging in to make sure you can work around any technical issues that may arise and that you're ready when your provider is ready to see you.
Write down everything you want to talk about beforehand so that when you are on the call, you don't forget what you want to discuss.
Be candid with your provider. They are not with you in person to read your body language, so be comfortable sharing all of your concerns.
Check with your insurance to make sure they cover telemedicine visits. Follow up after your appointment to verify the visit was coded properly for your health plan and the type of care you received.
If you can, use a computer with a wired Internet connection during your visit.
We understand that the technology behind telemedicine can seem complicated and intimidating. However, with a little preparation, you might find that telehealth visits are convenient and easy!
Read More
---
Since 1999, NATCO has sponsored an area-wide coloring contest for local students during the fall. Students in grades K-8th from schools in the South Shore area, Flippin, Yellville-Summit, Bruno-Pyatt, Bergman, Lead Hill, and Omaha, are invited to participate.
Each year, we are honored to exhibit some of the region's best young artists and creators. NATCO awards nearly $400 in prizes and invites winners and their families to our offices for a light dinner, dessert, and special awards ceremony with ribbons, certificates and cash prizes.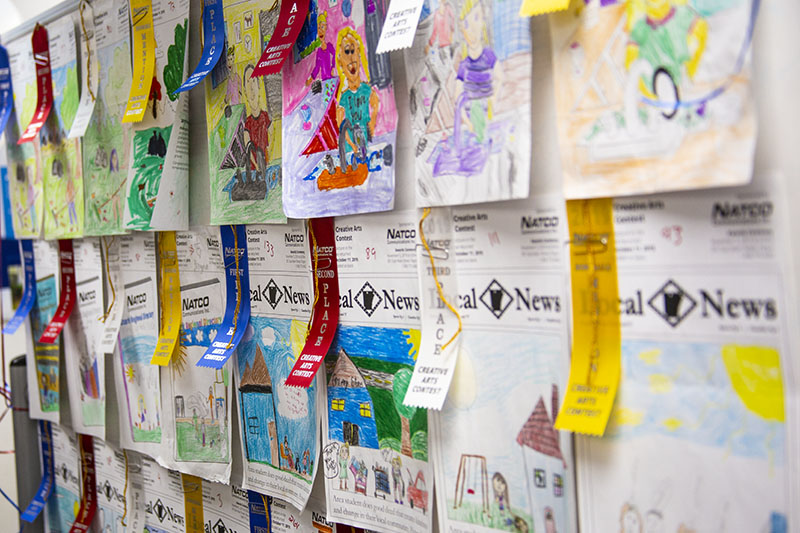 As with many other events, COVID has impacted the way NATCO will be hosting the Creative Arts Contest this year. Because of space restrictions and the regulations set forth by the Arkansas Department of Health, NATCO will not be hosting an in-person awards ceremony this year. Instead, we have decided to delay the contest for the time being. We are restructuring the contest and awards ceremony format to keep our students and families safe.
We're sorry for any disappointment. Rest assured that NATCO is striving to develop a solution that will allow participation from virtual and in-person students as well as a safe and fun awards presentation.
Read More
---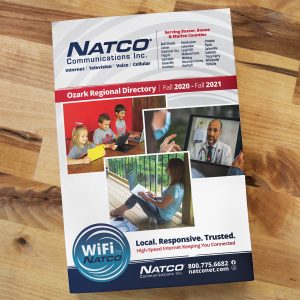 We are excited to announce the arrival of the 2020-2021 Ozark Regional Directory. In its 40th year of production, the Ozark Regional Directory is the area's most trusted telephone and business directory. With an area-wide distribution of over 17,000 addresses spanning three counties, the Ozark Regional Directory helps connect residents and tourists with nearly 2,500 local businesses.
"In the time of limitless information right in our pockets, some people may assume a phone book is obsolete," said Tim McEuen, Director of Customer Care. He continued, "It's actually quite the contrary. Google and other popular search engines often skip over local businesses listings for paid national advertisers, leaving our local economy in jeopardy. The longevity of the ORD speaks to the fact that our communities prefer to look locally to do business."
In accordance with state regulations, NATCO lists our customers free of charge in the residential listings. We also include listings from Suddenlink, Yelcot, NEXT, CenturyLink, and Ritter in the surrounding areas. NATCO business customers are automatically listed in the Yellow Pages, but if your business communications are through another provider you can still be listed for a small charge.  A smart move given our captive, local audience. Our directory sales representative makes contact with businesses in the area beginning in April and continuing through July. To have your business put at the top of our contact list for next year, contact Sharon Szuba, Business Development Coordinator at 800.775.6682.
NATCO mails directories to all our customers and residents and along popular mailing routes in Boone and Baxter counties. New directories were delivered via USPS during September, but they can also be picked up at one of the following locations:
Flippin: NATCO Office, Ozarks Realty
Bull Shoals: Gaston's Visitor Center, Chamber of Commerce
Lead Hill: City Hall
Diamond City: City Hall
Yellville: Davenport Realty
Mountain Home: Century 21 LeMac, Gilbert Realty
Harrison: Chamber of Commerce
Residents, newcomers, and tourists use the ORD as a book of area information. Pages in the front of the directory are distinctly colored and contain vital numbers by community and useful county information that can be accessed quickly. The directory is also a great tool to teach young children how to find and dial authorities in the event of an emergency.
NATCO actively mails directories out to anyone inquiring about our area, putting this directory into the hands of families all over the nation. To request a copy of the 2020-2021 ORD, call NATCO Customer Care at 870.453.8800 or 800.775.6682. If your business would like to host an Ozark Regional Directory distribution stand, please contact Kayla Stafford at marketing@natconet.com.
Read More
---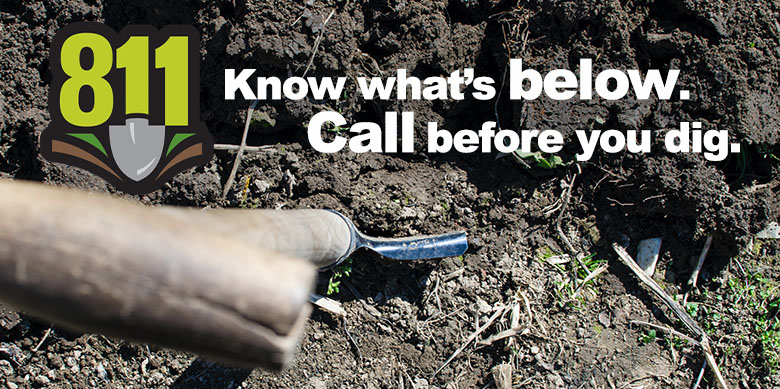 As fall approaches, the cool temperatures are perfect for working on outdoor projects. However, before you begin any projects that require a shovel, make sure to call Arkansas 811 to have any buried utility lines and pipes marked.
Calling 811 is required by Arkansas law, and cutting cables and pipelines can quickly accrue large fines from utility companies. By not calling 811 before digging, you might knock out the important utility services your neighbors rely on every day. With more and more people at home telecommuting to work and school, a cut Internet or phone line can be a serious interruption.
NATCO has seen
99 cuts
on our DSL and Fiber lines since 2019. "Many customers mention they were hand-digging or only digging a short distance and didn't see the need to call," says Monica Principato, NATCO's Outside Plant Engineer and Project Manager. According to the
Common Ground Alliance
,
nearly 40% of homeowners nationwide do not call 811
before digging (though that number could increase this year), putting themselves and their communities at risk.
Arkansas 811's provides several contact options including an online portal, the Arkansas 811 mobile app, and by phone at 811 or 1-800-482-8998. Please be sure to contact 811 at least 2 DAYS before all digging activity so NATCO can ensure that critical utilities continue to service our communities. For more information about digging in Arkansas, check out Arkansas811.com.
Call 811 logo courtesy of Call811.com
Read More
---